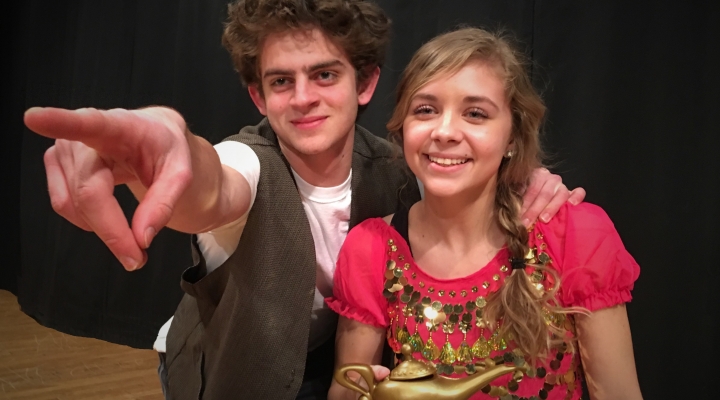 Bishop Walsh Spartan Theatre Presents Disney's "Aladdin, Jr."
Bishop Walsh Spartan Theatre Presents Disney's "Aladdin, Jr."
It is a guaranteed magical time as Bishop Walsh Spartan Theatre presents Disney's "Aladdin, Jr." Thursday-Sunday, March 22-25. Showtimes are 7 pm on Thursday and Friday, 6:30 p.m. on Saturday, with a 2:30 p.m. matinee on Sunday.
A special "Meet the Characters" event will be held at Bishop Walsh prior to the Sunday, March 25, matinee starting at 1 p.m. Young people can meet their favorites from "Aladdin," snap photos and enjoy a snack and activity. Tickets are $5 per child.
"Aladdin, Jr." is based on the 1992 Disney animated movie musical. The show centers on the city of Agrabah and a young street urchin named Aladdin who encounters a magical lamp and a hilarious Genie who grants him three wishes. Aladdin uses his wishes to win the heart of Princess Jasmine who is slated to marry. Aladdin races against time and the plotting of the evil Jafar to win the fair Jasmine's heart. The musical features songs made famous by the movie
including "Friend Like Me," "One Jump" and the love ballad "A Whole New
World."
The cast stars BW students Ben Koch (Aladdin), Josie Squires (Princess Jasmine), Cody Norris (Genie), Matt DiNola (Jafar), Erika Webb (Iago) and Eden Li (Sultan), with Erin Langan, Molly Twigg, Maryam Klosterman, Allyson McKenzie and Corinne Donoway serving as the mysterious narrators.
The musical is directed by Andréa Beall. She is being assisted by Kristin Diamond Walker as choreographer, Alex Serrano as production intern, Shannon Donoway as vocal coach and Ty DeMartino as artistic producer. Lighting design is by Carla Tesar. Bridget and James Cosgrove and Chris and Lynn Fritz have brought
the mystical city of Agrabah to life with their creative set designs.
Tickets are $10 for all ages and are on sale in the Bishop Walsh ticket booth at the school on Bishop Walsh Road. For more information, call the school at 301-724-5360.