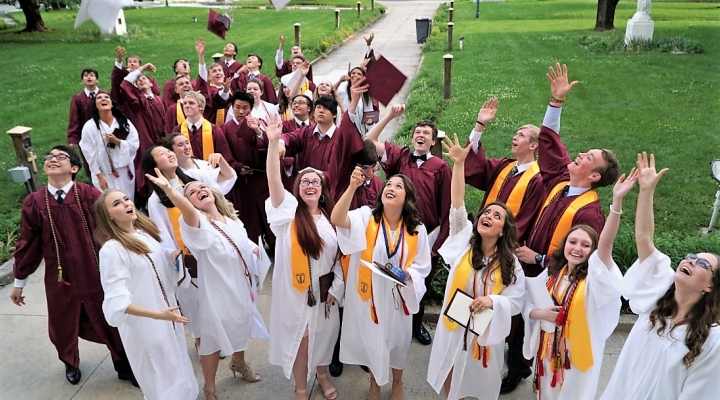 BW Graduating Class of 35 Earns $3.5 Million in Scholarships
Bishop Walsh School held its annual baccalaureate liturgy and commencement exercises in May. Principal Ray Kiddy presented 35 graduates with diplomas. This year, the class collectively earned a total of $3.5 million in academic scholarships.
At the ceremony held at St. Patrick's Catholic Church in Cumberland, seniors Jillian Courtney and Sean Mullaney gave the welcome and farewell remarks, respectively. In addition, special awards were presented to graduates for their overall grade point averages and excellence in subjects and other aspects of school life.
The highest average for four years was bestowed upon Rachael Duncan who also received The James and Hilda Berry Award, The American Red Cross Leadership Award, BW Exemplary Female Student medal and the medal for Excellence in Physical Education. The second highest average award was presented to Jillian Courtney who also earned the William Walsh Award for outstanding Mock Trail contributions, the medals for Excellence in Social Studies and Christian Values and Lifestyle. The medal for third highest average was given to Abigail Lapid who also was recognized with the Michelle Beaulieu Award, The Tom O'Rourke Award, and Excellence in Biology. Joshua Foland was recognized for the fourth highest average, as well as earning The William and Elizabeth Breighner Scholarship. The award for fifth highest average was presented to William Fritz who also earned the Woodmen of the World Award, the Korean Veterans History Award and the medal for Excellence in Chemistry.
Additional students were honored for the following achievements: Tyra Allen received the Dee Kiemle Award; Dom Mazzeo was honored with the medal for Student Council President; Marlee Riether was given the Deborah M. Berry Award; Holden DeMartino received the Aman Memorial Award; Cassie Grabenstein for Excellence is Spanish; Sam DeMartino for Excellence in Music and The JoAnn Stangel Memorial Award for Excellence in Performing Arts; Angelo Contaldi for Excellence in Computer Science and the Unsung Hero medal; Quinn Taylor for Excellence in Art; Sean Mullaney for Distinguished Catholic Action in the Community and The Principal's Medal for Outstanding Service to the School; Audrey Burton for Excellence in English and Physics; Nolan Andreassen for Excellence in Mathematics and the BW Exemplary Male Student; and Austin Barmoy for Excellence in Religion.
For more information about Bishop Walsh, visit online at www.bishopwalsh.org or call the school at 301-724-5360 x105.