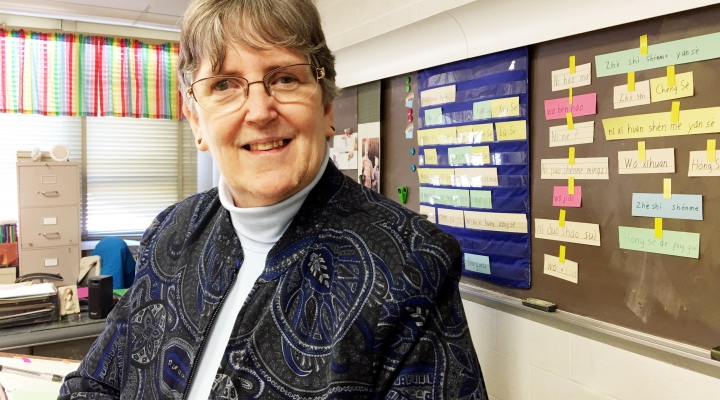 BW Teacher Immerses in Japanese Culture
For Sister Kathleen Jancuk, the Japanese people and culture have a special place in her heart. Jancuk, a member of the order of the Sisters of Notre Dame who teaches at Bishop Walsh School in Cumberland, spent a month in Japan on a teaching trip and brought her experiences and love of the country back to her students in Western Maryland.
Last fall, Jancuk served as a guest teacher in English Literature at Notre Dame High School and College in Kyoto, Japan. This is the second time Jancuk has visited the country and says each time the Japanese students are more and more fascinated with America.
"Of course, they were interested in the political situation in the United States," says Jancuk. "But the Japanese students think of the U.S. as a place for opportunities. They're very positive about America."
They are so positive, in fact, that the students at the all-girl high school preferred that Jancuk speak in English while communicating to be immersed in the language. Since their English and Jancuk's Japanese were both limited, the Sister relied on drawings to communicate. She even described her home in Western Maryland by sketching mountains, rivers and a canoe. "Kyoto is surrounded by mountains, too" she says. "And the students were very interested in the [Chesapeake and Ohio] Canal."
Jancuk, a native of Baltimore who has been at BW since 2002, also taught a religion class at the Japanese school and spoke to the students about vocations in life. Since returning to BW, she has shared her experiences with the members of the school's International Culture Club, which she serves as moderator. In addition, Jancuk teaches middle school religion and Chinese to elementary students. She also works with the Chinese high school students that BW hosts every year. However, she longs to return to Japan, one day, maybe even for an extended stay.
"I love it," she adds.