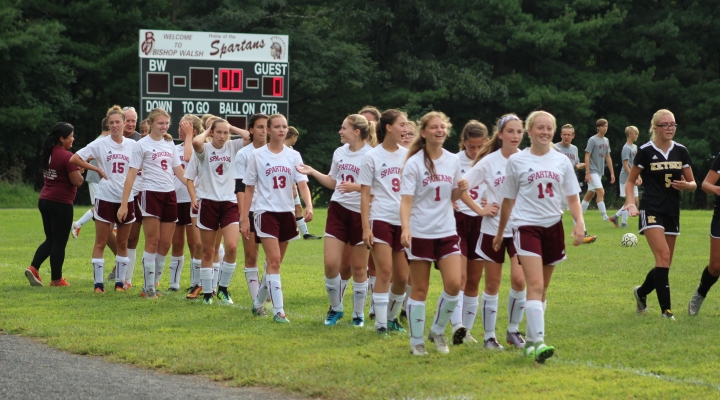 Athletics
Bishop Walsh School is committed to promoting the proper ideals of sportsmanship, ethical conduct, and fair play in all sports activities. For our student-athletes, the number one priority on the playing field is good sportsmanship. We are all representatives of the school, and our conduct is a measure of our integrity. As a Catholic school, the values of our faith must guide our actions.
Students may participate in the following team sports:
Boys Varsity and Junior Varsity Baseball

Boys

and

Girls

Varsity, Junior Varsity, Middle School, and Elementary School Soccer

Girls Varsity and Middle School Volleyball

Boys

and

Girls

Varsity and Junior Varsity and Middle School Basketball

Girls Varsity and Middle School Softball

Boys and Girls Tennis

Boys and Girls Bowling

Boys and Girls Track & Field

Boys and Girls Cross Country

Middle School Track Meet Preparation and Competition
Middle and High School Cheerleading

Golf

Equestrian Team
Official athletic warm-up suits for all students for all teams can be purchased here:

http://store.shopthefinaltouch...
Athletic Director: Mr. Carl Watson
email: cwatson@bishopwalsh.org
phone: 301-724-5360, ext 213